Things You Need to Know About Using the BTS

Operating schedual
Train services will run daily between 6.00am and 12.00 midnight. The level of patronage and specific requierments of passengers will be important factors in dermining the final service schedual.
Ticketing and fare collection
An automatic fare collection system providing single ride and stored value tickets will be used. The automatic fare collection system has been designed to cater for the system's possible ticketing intergration with other mass transit systems that will link with theBTS in the future.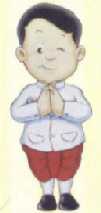 How to use the BTS

Route map